Home
<Research & Technology Development
Steel has been used in many outdoor structures such as hydraulic gates. However, it is not possible to avoid maintenance painting and replacement due to rust corrosion during service and this becomes a major issue to be improved. Therefore, HIBI Co.,Ltd. focused on the FRP (Fiber Reinforced Polymer) which is free from corrosion due to rust and worked on the development of FRP hydraulic gate. We will also continue to make earnest efforts in order to evolve FRP which has many merits into a higher performance structural material.
High Weather Resistant Gel Coat
The surface layer of outdoor FRP is integrally molded with high weather resistant gel coat. This gel coat protects the base material from UV rays and moisture which are highly against by FRP and maintain the inital strength for many years. High weather resistant gel coat (verified for 35 years and more) can be applied evenly with uniform thickness to all the parts required by the product using hand lay-up molding method and special coating forming method.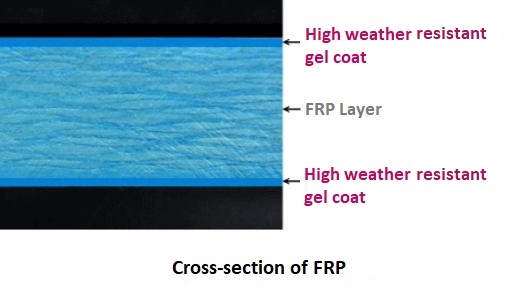 Compression Hand lay-up molding method    
The mechanical properties of FRP vary greatly depending on the reinforcing fiber content and its orientation. Compared with the normal hand lay-up molding method, the compression hand lay-up molding method can increase the content of reinforcing fiber and improve the strength and elastic modulus of FRP. Moreover, it can adjust the appearance of the forming member surface. The strength in different directions can be also set freely by combining the fiber types in coventional hand lay-up molding method.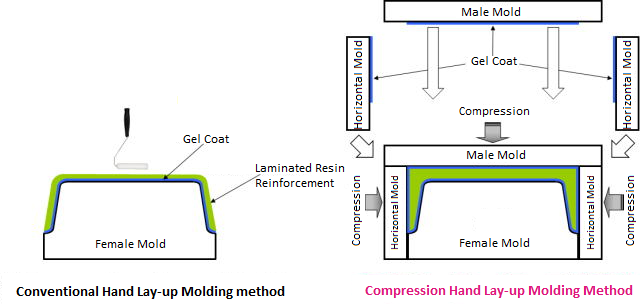 ---